 Sarah Knight BVetMed MRCVS
Head Veterinary Surgeon
Sarah qualified from the Royal Veterinary College in 2016. She spent two years in general practice in Devon before moving to Dublin, where she completed two internships in a referral hospital. She started working in an out of hours clinic in 2020 and discovered a passion for emergency and critical care. She moved back to Devon in 2022 and joined the EVES team. In her spare time she enjoys cross stitching, cooking, and exploring the Devon countryside.
Danielle Beer BVSc MRCVS
Veterinary Surgeon
Danielle qualified in 2016 from the University of Liverpool. Originally from the South West she moved to Plymouth, working in general practice for 3 years before committing to the out of hours lifestyle. Danielle has a passion for emergency medicine and anaesthesia; as well as enjoying caring for any wildlife that comes through our doors. In her spare time, she enjoys exploring the Devon and Cornwall countryside with her Cocker Spaniel called Kaladin. Shane Kennedy
RVN
Shane started his veterinary nursing career in 2015 at a general practice and after qualifying in 2018 he went onto working with critical care patients in a busy veterinary intensive care unit. Since moving to Devon in 2021 he started at EVES in 2022. Shane has worked at many out of hours and emergency clinics and has a keen interest in emergency medicine. Shane also holds an emergency and critical care certificate, and is looking to continue his studies with further certificates in various aspects of veterinary nursing. In his spare time Shane likes to spend time outside and at his allotment. Shane currently owns a rescue elderly Jug called Peggy. Maxine Bingham
RVN
Maxine qualified in 2017 and started working at EVES in 2019. She enjoys the fast pace and interesting cases seen in out of hours practice, and has a keen interest in inpatient care and anaesthesia. Outside of work she enjoys walking her Dalmatian Harvey, socialising with friends and playing hockey.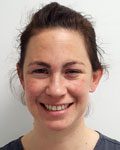 Natalie Forrester RVN
Orthopaedic Referral Nurse
Natalie enrolled as a student nurse at St David's Veterinary Hospital in 2003, and qualified in 2006. She took a keen interest in orthopaedics as a second year nursing student, and worked full-time with the orthopaedics team at St David's from 2007. In 2013 she changed to part-time to concentrate on her young family. She joined the EVES team in August 2021 and is thoroughly enjoying the new role. Her interests outside of work include a variety of fitness activities, walking with her dog, reading, house music, and having lots of fun with her family. Anca Dumitrescu MRCVS
Originally from Romania, Anca qualified in 2006 at USAMV Bucharest and has been living in the UK since 2010. She previously worked as a veterinary surgeon in Devon for the five years prior to joining Exonia. Anca enjoy medicine and emergency and critical care and providing good care for her patients. She owns a mischievous cat called Diva that lives up to her name. In her spare time she enjoys spending time with her friends and going for walks around Devon`s coast and countryside . Anna Dalby RVN
Anna qualified as a veterinary nurse in 1999 and has worked in a variety of practices in the south west ever since. Her nursing career initially found her working in both mixed and equine practices but she has spent the past few years concentrating her skills on nursing small animals. She's a local girl and has lived and worked in the county all of her life but that's not to say that she hasn't also done her fair share of travelling. Anna has visited China, New Zealand and Australia.